Quilting, the process of sewing two or more layers of fabric together to make a thicker padded material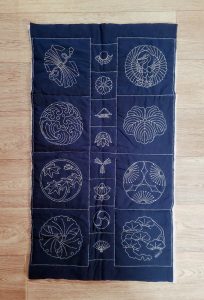 Q, much like last week's letter L, is a letter that has no equivalent kana or phoneme in Japanese. Typically, Q-words that are transliterated from other language end up being written with a K-based kana. For example – my last name, Quintal, would become クインタル, or Ku-in-ta-ru. I don't mind it!
However, it did make finding a topic for today's entry a little difficult. It took me a while but then it hit me; sashiko is a form of quilting. I thought I'd share a larger project I finished a while back. It's a beautiful pattern, a collage of kamon, or family crests, designed by Susan Briscoe.
I haven't gotten around to edging it yet but it will eventually be a wall-hanging, possibly double-sided. I haven't figured out the details yet. I love sashiko stitching because it's technically such a simple thing, but the results are so striking, especially when it's done with white thread on dark indigo fabric like this. I love that it's often used as a very practical, utilitarian handicraft, reinforcing fabric and adding weight and heft for warmth. And yet, it's so beautifully decorative!
If you're interested in doing this panel yourself, it's available directly from the artist who designed it, Susan Briscoe.