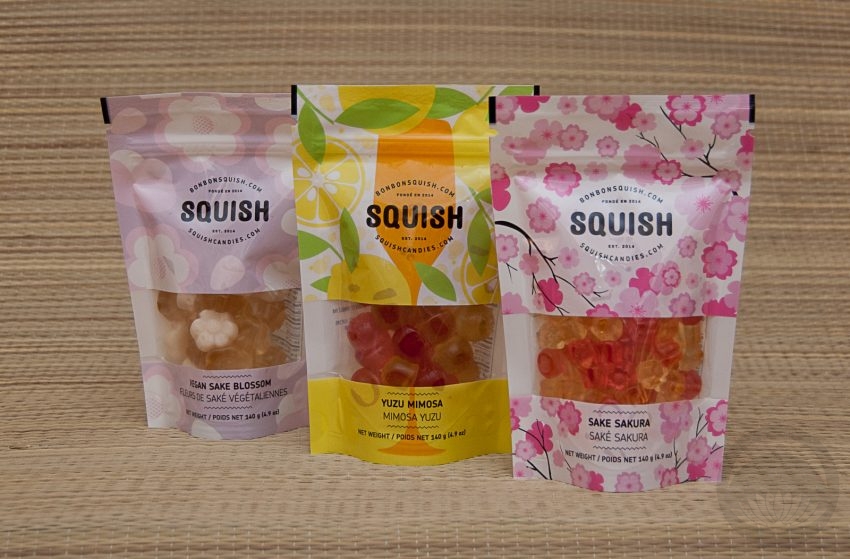 Squish is a locally-based candy company that's grown into quite a success story over the years. They focus on unique and seasonal flavours aimed at adults (including an entire cocktail-inspired collection), and offer a huge selection of all natural and vegan options. As someone with allergies to both artificial flavours and milk proteins, their efforts in avoiding common allergens and really clearly labelling all their products is incredibly appreciated.
So of course when I saw they'd released a special edition Japanese Collection for this spring, I knew I had to jump on it. I was very curious to see how they'd hold up to some of the more gummy variations of wagashi, traditional Japanese sweets. They released three separate flavours that all play very nicely together; sakura & sake, sake blossoms, and yuzu mimosa.
I was most looking forward to the sakura & sake flavour, and while they were tasty enough they ended up being my least favourite of the three. Between the cherry flavour and the slightly herbaceous accent of the sake they come off a tiny bit medicinal, for lack of a better word. They're by no means unpleasant and I'll happily eat them, but I'm not nearly as crazy about them as I am about the others.
The sake blossom ones have a very fresh and clean taste. It's subtle but definitely has the familiar taste of sake. There's even a hint of that warmth you feel after drinking alcohol. The nice thing about these is that they aren't overly sweet, so they're refreshing and not overwhelming.
The yuzu mimosa ones are by far the standout here. They're absolutely delicious and it was very difficult for me not to eat them all in one go as I was trying them out and photographing them! They're the perfect balance of tart citrus and sweet gummy, without being cloying. They taste like sunshine and summer and brunch with friends on the patio.
And look how cute and springy they are all mixed up in this jar! Eating them mixed like this seems to balance the flavours perfectly. You get the sweetness of the sakura, the bright citrus flavour of the yuzu mimosa, and the delicate sake to balance everything out.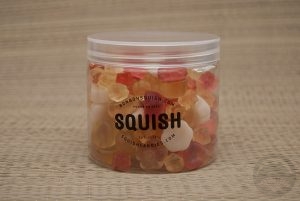 Are these a substitute for imported wagashi? Sadly, no. Are they delicious, and a great accompaniment to a seasonal meal or snack? Absolutely! I'm definitely going to be stocking up on the yuzu mimosa and the sake ones.
 I purchased this item myself and chose to review it.Note: A portion of all purchases of sakura & sake during the month of April will be donated to support The Véro & Louis Foundation. This Quebec-based charity's mission is to build and operate group homes to support autistic people twenty-one and over.