I'm home from California for now, so I'll be back to posting pure unadulterated kimono content very soon! However, the night before I left Keith and I had fun with this adorable little kit where you make a zen garden out of candy and I thought I'd share it with you all.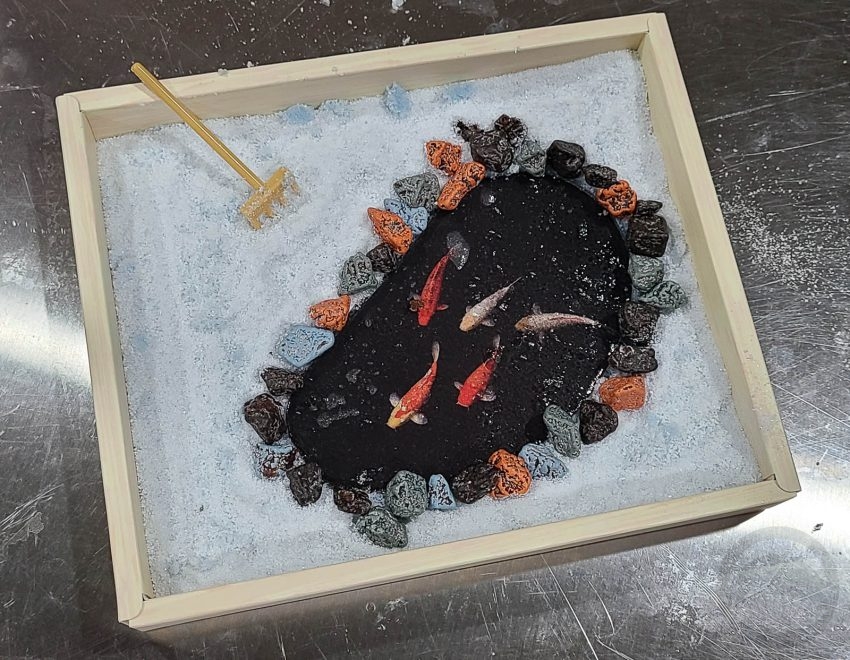 Kansai_Gal sent us the kit (along with a candy bonsai kit which I left there and we'll probably do next time I'm in California), and since I had to fly out the next day we decided to have a quiet night inside and I thought it would be a fun thing to do after dinner, and I was right.
The kit came with everything needed, even the little tray. I admit I was a bit sad the tray was cardboard and not actual wood, but it probably saved on weight and product cost so I understand. The fish were printed on the bottom of the tray, and you make a neat little jelly candy in the included mold that fits over the top to make the "pond" effect. Next step is to spread out the candy "sand", which reminded me of Pixi Stix and tastes like Ramune soda. The realistic little rocks are actually candy-covered chocolate, and were surprisingly delicious.
It even came with an adorable little rake to make designs in the sand, but they honestly weren't very visible.
I wasn't expecting this to taste very good, frankly, but we ended up demolishing the whole thing within minutes. I highly suggest cutting off a little piece of jelly "pond" and dipping it in the "sand", they balance each other out very well.
Overall this was a lot of fun! If you come across these kits I highly recommend getting one, just for the novelty of it. I've tried to find places selling it online and everyone is sold out, but maybe you'll luck out.