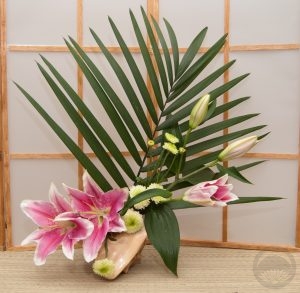 I am feeling pulled towards the ocean right now. The wet sand between my toes, the crackle and crash of the waves breaking on the shore. Floating away from everything that's wrong with the world.
Sadly, that's completely impossible right now. What isn't impossible, however, is making an ikebana composition that helps evoke that feeling. Using tropical-looking flowers and a shell instead of a traditional vessel and kenzan was the perfect solution.
This conch shell was brought back from the Bahamas when my folks went there on their honeymoon, 41 years ago. While it wasn't intentional I also used the same sort of lilies my mum had in her bouquet! The small button mums remind me of seafoam, and were chosen for no other real reason than that.
For the actual arrangement I was aiming for an intersection of diagonal lines. The lilies form one axis and the button mums form the other, anchored by the conch and the palm frond. I feel like this brings a lot of dynamic energy to the whole composition, and I'm very happy with it.