Typically for Hina-Matsuri I do a somewhat thematic coordination or DIY a set of dolls. This year, however, my motivation hasn't been where it should be, and I was worried I'd let the day go by without anything. But then I remembered that somehow last year I managed to get not one, not two, but three separate sets of Obina & Mebina dolls! I've posted some of them on Instagram previously but this seemed like the perfect time to share better photos and details.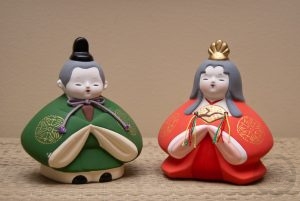 First, I have this lovely traditional hakata ceramic set. These were totally unexpected – I found the Emperor on a shelf mixed in with the other "decorative clutter" at the local Goodwill-owned thrift store. I nearly didn't take him, since he was alone, but then it occurred to me the Empress was likely somewhere nearby so I went hunting. I found her a few shelves over and I'm so happy I was able to reunite them and give them a home where they can be appreciated and treasured. Unbelievably, they were only $1.50 each! I don't think they're particularly old or "valuable", but they're incredibly charming and were such a treasure to find.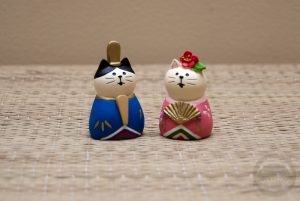 Next up is this cute (and slightly ridiculous) cat set by Decole Concombre. They're quite tiny and made of resin, so they're nothing fancy and not particularly elegant, but they are adorable and I love them to bits. Like all of Concombre's figures, they look a bit like they only have one brain cell to share between them, which only adds to their charm, I think. I also have a kimono-clad bride and groom set that are very similar, and I think if I were ever to get married, they'd make a hilarious cake-topper.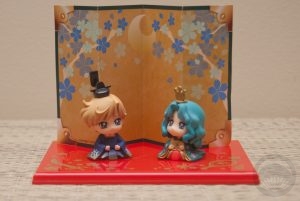 Last, but certainly not least, my favourite anime power-couple, Haruka & Michiru (Sailor Uranus & Sailor Neptune). I actually ordered these quite a long time ago and had them shipped to Keith's, so I was finally able to get them when I went a few months back! They were absolutely worth the wait; they are too cute for words. It's my first time seeing a lesbian couple as Emperor and Empress, but it totally works with these two! Their outfits are accurate to typical hina dolls, but include references to their characters and Sailor Senshi powers which is a really nice touch. I also love that they also came with the little raised dais and byobu screen backdrop.
I know you guys want more kimono coords, and I promise I'll have one sometime later this week!