This is an entry that's been a long time in coming. It may get a bit verbose, and I apologize. If you're not interested in personal ramblings and art-related discussion, feel free to skip it.
My interest in kimono stemmed from an interest in traditional Japanese aesthetic in general, which I believe I inherited from my grandmother. I have always been fond of traditional woodblock prints; landscapes in particular.
The Tokaido Road is a highway connecting the New Capital, Edo (tokyo), with the Old Capital, Kyoto. There are 53 famous way-stations along this road, plus the start and end points. Edo-era artist Hiroshige Ando became so enamored of the views of these stations that he produced several series of prints, known as the "Stations of the Tokaido". There are four editions of these, each from slightly different vantage points and during different times of year. The most famous, however, is the Hoeido Edition, and is the one I will most often be referencing here.
About a year ago, I found an obi on Ichiroya of a snow-covered cabin in the mountains. As soon as I saw it, I felt an immense pull and a desperate desire to have it. As I've mentioned before, my best friend lives in Colorado, and I often go visit him (sometimes buying kimono while I'm there), and I initially chalked the nostalgia the obi made me feel to my love of the mountains there. Naomi's darling husband Arian took pity on me and my obsessive infatuation, and bought me the obi as a gift.
The more I thought about it though, the more visually and emotionally familiar it felt. It took me a while, and a great bit of help from Erica, it finally hit me. It was a creative interpretation of Station 15, Kambara, with the people removed.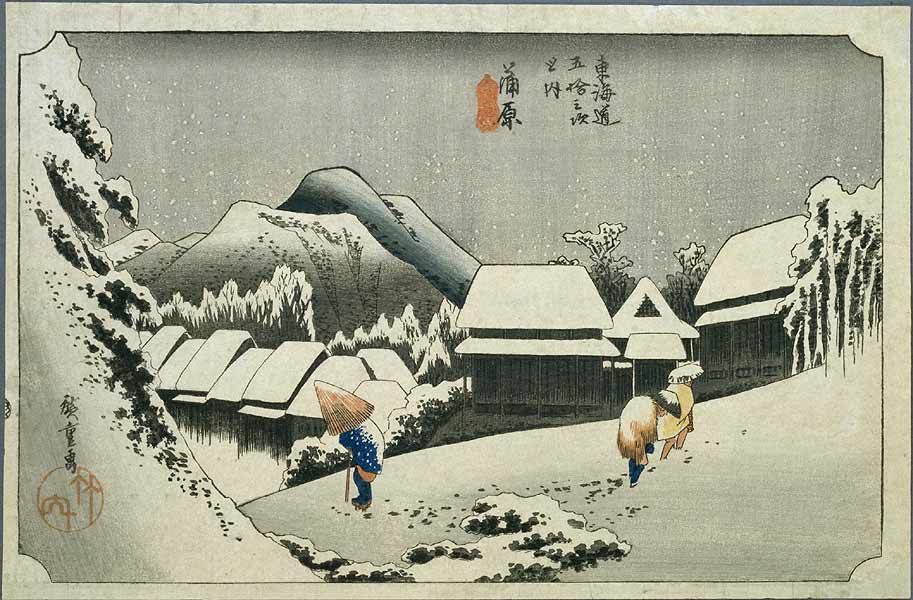 This discovery, unfortunately, created a torrent I've since been unable to stop. I dove headfirst into more detailed research of the Stations of the Tokaido, mostly on the internet, but in my own bookshelves as well. I'd actually purchased books about Hiroshige years before, and one that's always come in handy is Hiroshige In Tokyo, by Julian Bicknell. Armed with a new wealth of information and a new obsesson, I dove in. I made the unfortunate discovery that these prints are a fairly popular motif for kimono and related items – obi in particular. With that knowledge in hand, I have begun to amass a "collection within a collection," if you will.
Since that first obi, I have acquired several more, and a decorative dance fan. My ambition is to eventually have items with all the stations on them, but that is a long-term goal for when I have much more expendable income!
I am not sure, but I believe this is an interpretation of Station 14, Yoshiwara. As always, if you have further information or can read the text on it, by all means let me know.

This one is also very special to me – I have mentioned before my love of hakata, so when I found an obi that was both hakata weave and several stations, I knew I had to have it. I saved up, and the day I was ready to purchase it, someone I know online bought it for herself. I'm not going to lie, I was devastated. Through her own kindness, and the helpfulness of Yuka at Ichiroya, the obi found its way to me. I love it to bits. It contains stations Kuwana, Mariko, and Hakone.
The last obi is another one of Hakone. I already had the hakata one at this point, but I loved the soft pastel colours on this one and it was a bargain, so I couldn't pass it up.

The last item I currently own is not an obi, but rather a nice, solid dance fan. It has the starting point (or station 0 if you will), Nihonbashi Bridge.
I am, in fact, so obsessed with this that I am currently coveting a particular nail polish – NARS Tokaido Express. Those of you who know me well are aware that I also have a passion for doing my nails and ferreting away a huge collection of nail polishes (I have over 200 at this point). When I found this polish, I knew I had to have it! The fact that it's a gorgeous rich espresso brown with purple and gold shimmer doesn't help! Unfortunately, it's an expensive designer brand and actually more expensive than several of my cheaper kimono! I will have it eventually though! Probably much sooner than the kimono-related goal.
If you would like to learn more about Hiroshige or purchase prints of his work, please check out the Utagawa Hiroshige page on Artsy.