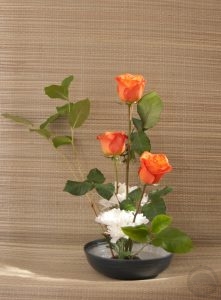 Isn't it supposed to be autumn this weekend? The trees are still green, the weather is still warm… It definitely feels like a second summer is sneaking back to us. Blegh!
This more traditional-looking sparse arrangement is another one made with the same bundle of flowers as the last one, but it feels quite different I think. The roses make me think of the sweltering heat of mid-summer, but their colour absolutely evokes autumn foliage.
I am definitely ready for it to actually stay cooler and crisper now! Can summer just go away properly, please?