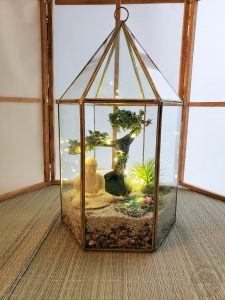 First off, please let me apologise for the lack of updates recently. The weather is still miserably hot, and it's killing both my ability and my motivation to do much of anything. Work has also been busier than usual. I may not have found the time to change the mannequin lately, but I did want to share this little miniature project I completed recently.
The more I make dioramas and miniature-scale things, the more I realise how much I love it. The Japanese-themed dollhouse was such a pleasure to make that I wanted to do something else with a similar influence. These gorgeous glass and metal terrariums I found at the craft store seemed like an excellent place to start.
I laid in a base of rocks and fine sand to serve as a neutral foundation for everything. The tree was made from scratch, I started with a wire armature, covered it in tape, then covered the whole thing in textured clay. I painted that in shades of brown to mimic bark and then glued on clusters of foliage to give the whole thing a windswept bonsai look. The little pond is resin, with a base of blue glass beads, stones, and tiny shells.
The Buddha is antique ivory. It was my grandmother's, and my father used it as a teething soother when he was a baby. Eventually I will find a suitable replacement that's a little smaller and holds a lot less sentimental value, and possibly a tiny stone lantern, but for now I think he looks rather at home there. Looking at the whole thing relaxes and grounds me, and I couldn't be happier.