Until now, the outfits in this feature have been more thematic than actually costumey. Today's coordination is a little bit different. This one is lifted straight out of the pages of one of my favourite current comic books, Bitch Planet by Kelly Sue deConnick. Without spoiling too much, the basic premise is that women who are deemed "non-compliant" are sent to an essentially lawless prison colony in space. Being deemed non-compliant can be as simple as being too loud, too big, too "unappealing" to men. It's an incredibly interesting examination of gender and society. I would absolutely be deemed non-compliant and I revel in that.
There is one scene where one of the characters, in hologram form, plays the violin for her father. Typically, the inmates wear orange jumpsuits emblazoned with the NC logo, but in this scene she's wearing a kimono with an NC obi. Due to the stylistic way she's represented as a hologram everything is sort of pink and washed out, but I am going by the assumption that the kimono is the same colour as the jumpsuits. As soon as I saw this panel, I knew at some point I was going to try to reproduce the outfit.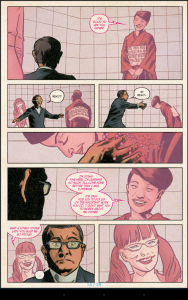 I had big plans for this costume. Unfortunately, life has a tendency to get in the way. Originally I was going to buy an orange iromuji and paint the obi. However, it's nearly impossible to find an iromuji in prison-jumpsuit orange. Especially a cheap one, since I know I'd never wear something this colour aside from in this costume. As for the obi, I cut and sewed this inexpensive white obi into a tsuke to make it easier to work with, and I'd intended to stencil the Non-Compliant pattern onto it. Unfortunately, I couldn't find any fabric paint that didn't bleed all over and turn into a blurry grey mess. I fought with the whole thing for nearly two weeks – hence the lateness of this entry – and eventually figured I could put my image editing skills to use and at least make a composite of the outfit! Eventually I will make the obi and possibly wear it to a convention at some point in the future, but for now I think this works out quite well!
I know I'd initially said I had five outfits planned, but between my health being not great lately and this one being delayed, it's going to be the final entry. I hope you enjoyed this little month-long venture into ways to wear kimono for Halloween!
Spookitsuke October 2016