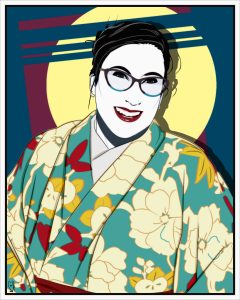 About a month back, a friend posted an awesome portrait she'd had commissioned that brought to mind the iconic new wave pop art of Patrick Nagel. She linked me to the artist's commission page and I bookmarked it for later perusal.
Fast-forward a few weeks and I'm still riding on the high of finding a kimono that fits me and happens to be in one of my favourite colours. I realised that the graphic design of the kimono, bold red lip, and funky glasses would be a perfect fit for the art style, so I contacted the artist and asked if it would be possible to replicate the pattern in his style.
He totally went above and put so much lovely detail into the kimono and my glasses, and even made the portrait larger than necessary to show it off to its best potential and included a background that helped balance the whole piece out. Be sure to view the full-sized version. He was an absolute pleasure to work with, and his prices start at a base five dollars, if you can believe that! If you're interested in a funky and unique portrait like this, kimono or not, definitely check out Mousetivity on Fiverr.