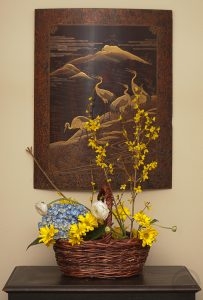 Hanakago (花篭) means "flower basket", and it's a common motif in art and textiles. The baskets can be of any shape and size, and are filled with a profusion of beautiful seasonal flowers. I knew I really wanted to do a hanakago ikebana arrangement, but I'd been waiting for more inspiration than that.
Today was the first day of the year that genuinely felt like spring. I actually went and ran errands without even needing a jacket, and I wanted to celebrate that. I decided to go for a very loose, natural-feeling assemblage of springy flowers in the basket. A beautiful blue hydrangea forms the anchor of the piece, sunny forsythia bring in height and shape, and yellow daisies and a few white ranunculus fill it in and bring some much-needed softness.
It's a much looser shape than I'm used to doing, but I feel like it's still very effective. It feels happy and natural and bright. I'm quite happy with how it looks in this little nook, and it will make me smile when the sun and warmth inevitably vanish again in a day or two.