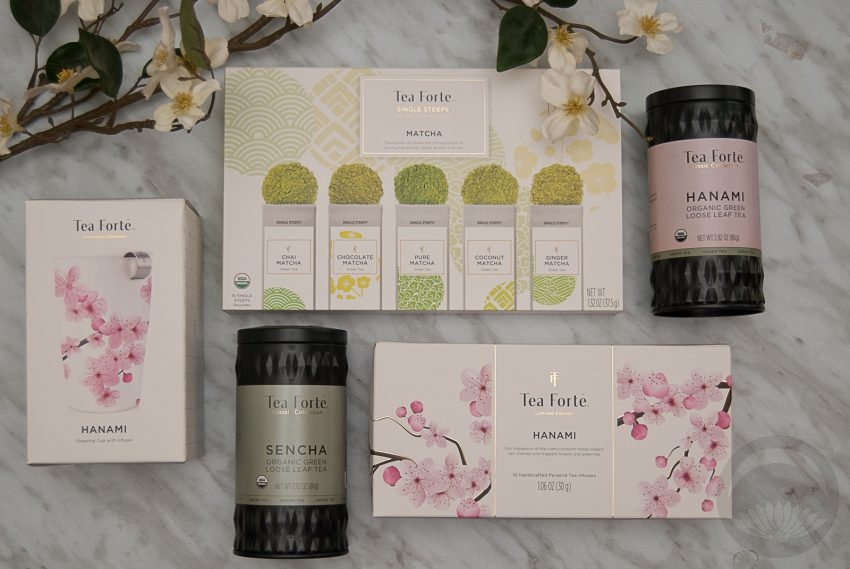 Today I have a beautiful assortment of teas from Tea Forté as well as their incredible KATI steeping cup in Hanami design. I received these for review purposes back in early June, and have been trying them out for a while to make sure I could bring you the best review possible. It's just my luck that I get a selection of hot steeped beverages to work through while we've been hit with the hottest summer on record here in Montreal, but I've persevered! It was worth it!
To begin with, here's the Matcha Collection; a beautiful presentation box with single-serving packets of matcha. Included are Chai Matcha, Chocolate Matcha, Coconut Matcha, Ginger Matcha, and Pure Matcha.
This is a beautifully cohesive, well-designed sampler. There are three packets of each variety, perfectly measured to make one cup of tea each. I love how thoughtfully designed the packets are, they're very pretty to look at as well as being practical. They prevent the tea from being exposed to light and are very easy to open. so they would be great to travel with or keep at your desk.
I started with the Pure Matcha, because it was the most straightforward and I wanted to taste it clean before digging in to the interesting flavour combinations. It was earthy and grassy in just the right way; if you're familiar with matcha you'll know what I mean. It whisked easily just using a dessert fork, if you don't have a proper chasen (bamboo whisk).
Next up was the Coconut Matcha. Full disclosure here, I like coconut by itself but tend not to like coconut-flavoured things. They almost always remind me of sun block or soap. I'm very glad to say that was not the case with this one! The coconut was delicate and natural-tasting, and didn't overpower the fresh green taste of the tea. I do think I'll be giving the other two packets to my mum, who is a coconut fiend, but I definitely did find this one more pleasant than I was expecting to.
From there, I started venturing out to the stronger and more adventurous combos, starting with the Ginger Matcha. This one was delicious – very heavy on the ginger, spicy and warming all the way down my throat. Which I probably would have appreciated a little more were we not in the midst of another oppressive heat wave! I did find the ginger overpowered the matcha itself a little bit but since I love ginger that wasn't an issue personally. If you prefer your ginger milder, however, you might want to give this one a pass.
That brought me to the Chai Matcha, which struck a perfect balance between the grassy tea and spicy herbs. There's also ginger in this one. but it's not as up-front as the previous tea. There are also beautiful notes of cinnamon and a few other subtle spices I can't quite pin down. This would also be incredible iced, or blended with a milk or non-dairy beverage of your choice.
I left the Chocolate Matcha for last because, to be frank, I was a little wary of it. I know it's not uncommon for matcha to be paired with white chocolate in desserts, but the idea of it as a warm drink struck me as more than a little odd. Thankfully, the geniuses at Tea Forté clearly know what they're doing, since this was unexpectedly delicious. It's a little sweet without being cloying, and there are definite notes of cocoa in the blend that somehow pair really well with the matcha. This one would be a lovely dessert tea, and I'm going to try baking with it soon.
Next up is Hanami, another lovely presentation box filled with ten individually wrapped pyramid infuser bags as well as a pretty and sturdy tin of loose-leaf. This is a new addition to their product line and has already won a silver medal at the 2018 Global Tea Championship
This tea starts out with delicate sencha green tea, carefully blended with sakura essence and rose petals to bring a beautifully balanced floral note. This particular style of tea (green with light floral notes) is one of my favourite ways to drink green tea, so it's no surprise that I absolutely loved this one. When mixing floral notes into tea it can be easy to go either too heavy and have the tea overpowered, or too light and make the floral almost undetectable, but there's a reason this one's an award winner. It's spectacularly balanced!
This also shows off their fantastic handcrafted pyramid bags very well, and aren't the little leaf tags adorable?! The bags are incredibly sturdy and allow for excellent water flow which makes for a very smoothly brewed tea. This isn't really related, but I received this amazing mid-century tea cup from a friend years ago, and it's one of my favourites. I don't use it often because I'm afraid of breaking it, but this seemed like an appropriate time to bring it out.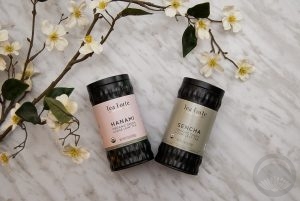 As amazing as flavoured and speciality teas are, one of the best tests is how a pure, organic tea with no additions tastes, and their Organic Sencha is no exception. This is a beautifully gentle, clean, and fresh green tea. These tins have steeping instructions on them which is one of those little touches that make such a huge difference, especially when it comes to green teas. They're quite sensitive to time and temperature, so having precise numbers to work from helps ensure optimum enjoyment of the product. This tea is clean, fresh, and just a tiny bit grassy/earthy, which is exactly what you want in a green tea.
The KATI cup is also absolutely gorgeous. It's a really weighty, solid-feeling ceramic with a beautiful design of sakura on it. There's a very fine mesh strainer that fits into it, perfect for loose-leaf teas, and a ceramic lid to keep your tea safe and warm. The cup comes in a ton of other beautiful designs, if the cherry blossoms aren't your style.
I can't get over how much thought and effort were put into every aspect of everything Tea Forté offers. From the flavourful, delicate, and well-balanced teas themselves to the design and aesthetics of the packaging. They feel so luxurious, and would make incredible gifts. I highly recommend everything listed here (assuming the products are to your taste!), and I'll definitely be buying from them in the future.
I received this item from the retailer or manufacturer for honest review purposes.If you have a topically appropriate craft, product, or service you would like me to review, please contact me.