Today for you I have something that I think is really cool. I came across this sterling silver spinner ring that looks like a wave-motif obi, complete with obijime! I've mentioned it in passing here before, but for those who aren't aware, I suffer from anxiety and mild obsessive-compulsive disorder. I've been a fidgeter and a worrier most of my life. So when I found something that not only could help me deal with those issues but looked as beautiful as this, I was thrilled!
The base design of the ring is clearly inspired by the beautiful Great Wave off Kanagawa, but reproduced in a beautifully fluid and slightly abstracted style. It wraps all around the band of the ring, ensuring it looks beautiful no matter how you put it it on. What truly makes this ring special though, is the spinner segment, two thin bands of sterling silver tied in a square knot and looking identical to an obijime tied over a beautiful obi. The gently rolled edges of the ring keep the spinner from falling off and help keep the ring incredibly comfortable both to wear and to fidget with.
I would also like to clarify that, no, this is not an engagement ring post or anything of that nature! I selected the ring size to fit on my index finger, ideal for a spinner/fidget ring, but since it's so hot and humid here in Montreal my hands are swollen and it currently only fits on my left ring finger. Rather than delay this review for too long, I decided to run with it.
Even the packaging the ring came in is beautiful and thoughtful, and would make this a fantastic gift for any lover of kimono or traditional Japanese art.
You can browse Energy Stone's beautiful selection on EnergyStone.Com and Etsy. This ring is the only one that looks specifically like an obi, but they have many other beautiful designs as well! If you've been looking for something to help with anxiety and help keep you grounded, or are just looking for some unique jewellery to wear with or without kimono, I highly recommend them.
Just for fun, here is a bonus photo of the ring in action with some raspberry-lemon vegan soft serve from Ca Lem, my favourite local creamery.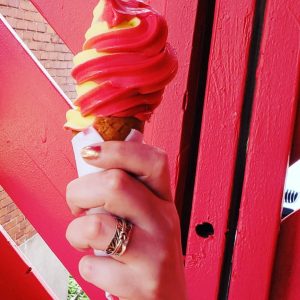 I received this item from the retailer or manufacturer for honest review purposes.If you have a topically appropriate craft, product, or service you would like me to review, please contact me.