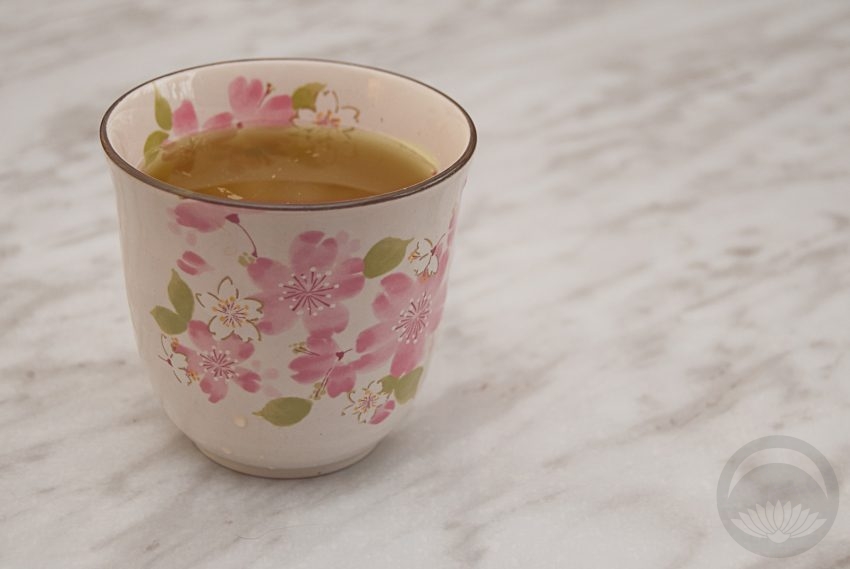 With a shop name like Tiaras 'n Teakettles and years of experience organising tea parties, dinner parties, and formal balls, you know Jess has to be serious about tea. Nowhere is this more evident than in this custom blended Sakura Matsuri tea. I've been fighting off some kind of sinus/throat crud for just over a week now, so a nice cup of tea seemed like the perfect treat today.
Sakura Matsuri is Japanese for Cherry Blossom Festival, which makes it a perfect name for this tea. It's a blend of quality. long-leaf green tea with cherry essence and dried rose petals that give the green base a fresh, spring-like flavour.  Even though the cherry and rose of this tea are subtle and well-balanced, I would still recommend it more as an afternoon treat or a dessert accompaniment – the flavours likely wouldn't mesh well with hearty main course foods, if you're the type to enjoy tea with your dinner.
The risk of incorporating florals into tea blends is that they can often end up tasting soapy but the rose aspect of this tea is perfectly complemented by the green tea and the cherry notes. It's definitely there, but it's subtle enough that the focus remains on the tea itself. When I made the first pot of this to try out, everyone in the household was a fan, which is rare. This is a light, lovely tea for the transitional springtime. And of course, with a sakura-themed tea, I had to use this sakura cup from Ceramic Ai that I love to bits. It snowed here in Montreal this morning, but this combination of tea and cup brings a little bit of brightness into my life.
The packet sold is a very generous amount, good for several large pots. I also love the added detail of including the steeping directions on the label. Lighter teas often require cooler water and shorter steep times, and having them right at hand is very useful. It's a small touch, but very much appreciated.
If and when spring ever arrives here, this tea would be perfect for a dessert picnic under the flowering trees. Something to look forward to, I suppose!
 I purchased this item myself and chose to review it.This post contains affiliate link(s). If you choose to purchase, I receive a small rebate or commission which goes to the continued maintenance of this site.