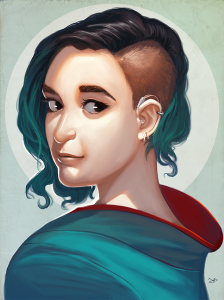 I've loved Dan Howards's art for years, ever since I saw it on a message board we were both members of. I'd always wanted wanted to commission him but things never worked out. Until now! Things came together at just the right time, and I'm very happy.
He did a great job capturing the details that were important to me, like my hair and my accessories, while still staying true to his personal style. I also love the low collar of the kimono! Especially since he'd never drawn accurate kimono before and was going by some vague references I sent. The pop of red is great too. It adds a great little racy touch and contrasts so well with my beloved teal/peacock colour palette.
Please go check out his work on his website, Dan Howard Art.