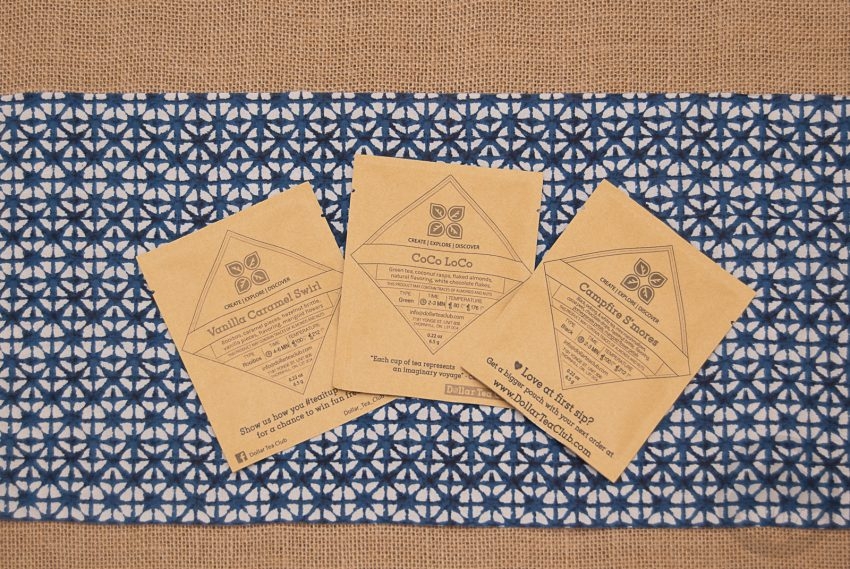 I originally came across Dollar Tea Club through a sponsored post on Instagram. Clearly those targeted ads work!
I love monthly subscription boxes. It's a bit ridiculous how happy getting a little surprise in the mail makes me. I've been a subscriber to services like Ipsy and LootCrate before, but with the low Canadian dollar and ever-increasing shipping costs I've had to cancel them both. But Dollar Tea Club is so affordable that I know I'll be sticking with it for quite a while. For the price of one drink at a cafe, you get three generously sized packets of loose-leaf tea and three compostable filters delivered right to your door. It's such a great little treat.
I've been subscribed for several months now. I wanted to stick with it for a while before writing this review, just to make sure I'm as happy now as I was when I first signed up. I won't be giving each specific tea a thorough review, this is more of an overview of the service itself.
There's always a good variety of standard classics and interesting custom blends. Every tea I've tried has been lovely. During the summer, they sent several varieties of fruit-based herbal teas and they all made excellent iced tea drinks, so this is definitely a subscription service you can enjoy year-round. Admittedly, with a surprise selection like this, not every tea will be to everyone's preferences. For instance, I have no interest in the supposed health benefits of things like Ease n' Fit, but I will acknowledge that it was still quite tasty!
If you'd like to try out Dollar Tea Club for yourself, my referral code will give you $1 off your first month and give me a little bonus towards next month's package. Since each month only costs $1, you're basically getting to try it out for free. All you have to do is pay for shipping! Use code REFV8G0DF3D91 during your checkout.
 This post contains affiliate link(s). If you choose to purchase, I receive a small rebate or commission which goes to the continued maintenance of this site.