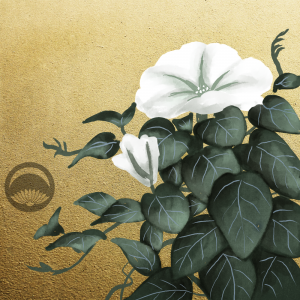 I recently bought myself a Microsoft Surface to be able to work on the go, and one of the greatest appeals for me was the fact that I could draw directly on the screen. What I didn't take into account is the significant learning curve. Painting with a graphics tablet like a Wacom is markedly different from painting on a canvas, and painting directly on your work surface is different from both. The Surface has the benefit of allowing me to put my input tool directly on top of the artwork, more like a traditional painting, but the screen itself is so smooth, there's no tooth at all like there would be with "real" paper or canvas.
I found a photo of a lovely painting of a moonflower in a book recently and it called out to me.  As you may know, moonflowers are kind of my "thing", hence the moonblossom.net domain, my moon and flower custom kamon, etc etc. So when I found this, I thought I would use it as inspiration to start to get the hang of painting directly on the Surface! I've definitely got a ways to go, but I'm happy with my progress.
I suspect I will be doing digital painting much more often now that I have this thing, so be prepared for an influx of kimono and woodblock-inspired doodles!