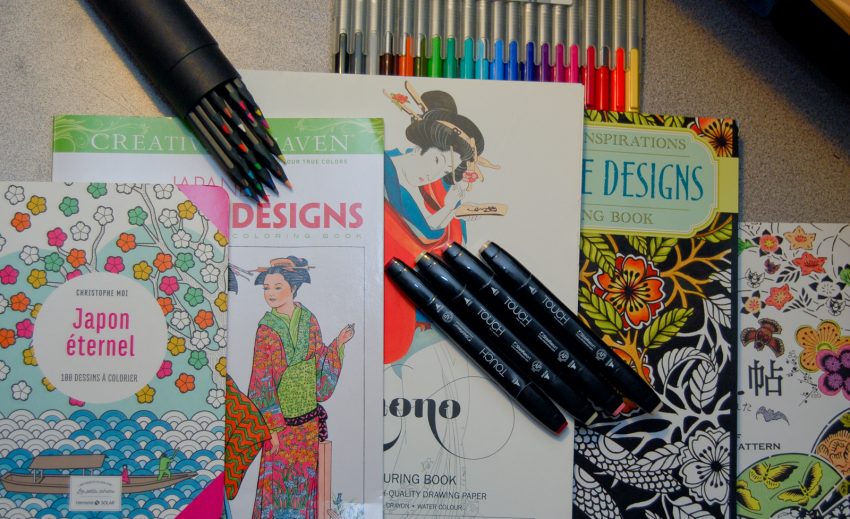 As you've likely heard, colouring books for adults are all the rage right now. They're a great way to slow down and focus on something tangible in today's increasingly hurried and digital world. My mother bought herself a couple some time ago and I found myself increasingly curious so I sat down and tried some out. They're incredibly relaxing, and there is something very rewarding about watching the image you've chosen come to life as it fills with vibrant colour.
Of course, I was curious to see if there were any kimono or Japanese image colouring books easily available, and did I ever hit the jackpot! There is a very wide selection of colouring books featuring Japanese patterns, ukiyo-e artwork, and the like. Many of them are published in English and available at most large-scale book-sellers. I've been working on all of these books on and off for several months now, which has been ample time to compare them. Hopefully if you're considering getting into this fun pass-time, these mini-reviews will help you choose a book or two for yourself.
For each book, I tried to test a variety of tools. Inexpensive children's markers as well as alcohol-based illustration markers, and inexpensive coloured pencils as well as high-end watercolour pencils. In each case, if some particular pencil or marker worked noticeably better or worse, I'll include a note of that.
This book is marketed as "two books in one", and while I originally thought that was a bit of a stretch, it's actually fairly accurate. There are two categories of images in it. One side has ornate patterns and woodblock-style portraits of beautiful women with heavy black borders and filled-in areas. This side of the book results in bold and dramatic end results. If you flip the book over, the other side has more delicate line-work and focuses more on traditional patterns. Both sides are surprisingly accurate when it comes to traditional details and motifs, but there is plenty of room for creative liberty.
The printing in this book is one-sided; the back of each page is blank, which makes it suitable for any lightweight media from coloured pencils to alcohol-based artist markers. It's also a great bargain, especially if you take advantage of one of Michaels' frequent coupons or sales.
I purchased this item myself and chose to review it.
This book is something special. There are only sixteen pages in it, but each page is acid-free heavyweight watercolour paper, suitable for all types of media. The lines are also printed in very pale grey, which means that once you fill them in the outlines are nearly invisible. When complete, these aren't just "colouring book pages." They're works of art, appropriate for framing and displaying. I tried them out with a combination of watercolour pencils and alcohol markers, and the results are gorgeous.
The images are all faithful reproductions of famous woodcut prints, lush portraits beautiful women dressed in the soft and relaxed kimono style of the Edo era. However, due to the detailed nature and pale outlines, I would not recommend these for people who are only looking for something fun and laid back to colour. These require more patience and finesse, but the final outcome is definitely worth it.
I purchased this item myself and chose to review it.
This is a great casual book. It's quite easy to find and very affordable. The pages are perforated for easy removal and printed only on one side. The paper's a bit thin and alcohol-based markers do tend to bleed a minuscule amount, but in most cases the outlines cover any overspill. The designs are lovely, ranging from simple portraits of a lone woman in a fairly plain kimono to much more elaborate group shots with very ornate patterns. There's a fairly wide variety of historical outfits. In a couple, it feels like the artists have taken a bit of creative liberty but there's nothing painfully inaccurate.
I purchased this item myself and chose to review it.
Locating copies of this one may be a bit difficult. It's available on Amazon Japan (above link) if you're able to navigate that. My friend Heather purchased this copy for me from the Kinokuniya bookstore in San Francisco.
What little text the book has is in Japanese, but this isn't really a hurdle since it's a colouring book. This one is of particular interest to kimono collectors, since each pattern is replicated from an actual katazome stencil. The patterns are wide and varied, from ubiquitous sakura and ume to more esoteric things like bats!
The paper is quite thin and it's printed on both sides, making it most suitable for coloured pencils. With a light hand, some water-based markers might not bleed through, but alcohol-based markers and watercolour paints are a definite no-go. However, if you're really determined, you could remove the pages, scan them, and print as many copies as you like! The pages are also printed edge-to-edge which can make it a bit fiddly to colour right near the spine of the book, but it doesn't detract from the beautiful patterns.
I received this item as a gift.
This is more of an art therapy colouring book than the previous ones. It's full of funky, repetitive-style patterns and mandalas and bold, graphic interpretations of traditional Japanese imagery.  It's got everything from maiko to torii gates to tentacles! It may not always be accurate, but in the case of this one accuracy isn't really the point. It's fun pop art. It's also much smaller than all the previous books, which makes it great to toss into a handbag or backpack. The pages are perforated and printed on both sides, which makes it most suited to coloured pencils. I even used good old-fashioned Crayola crayons to do a couple, since the areas are so large and bold.
I received this item as a gift.
---
This post contains affiliate link(s). If you choose to purchase, I receive a small rebate or commission which goes to the continued maintenance of this site.If you have a topically appropriate craft, product, or service you would like me to review, please contact me.