And now for something a little different. A while back, I posted my watercolour style fanart of Sherlock Holmes and John Watson from BBC's Sherlock dressed in Meiji-era wafuku. Recently, I've become hooked on Steven Universe, which is an utterly adorable and uplifting cartoon. I thought it might be fun to draw the main characters from the show in more modern wafuku. They were super fun to draw! I tried to convey aspects of each character in their outfits, but hopefully even if you're not familiar with the show you can appreciate them. 🙂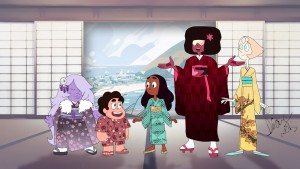 Steven's wearing a jinbei, featuring a motif of Cookie Cat, the mascot from his favourite snack. Jinbei are very casual cotton two-piece outfits. Adults will generally only wear them around the house, but it's not uncommon to see younger kids wearing fun print ones to summer festivals and whatnot. I thought the cute, comfortable, slightly juvenile style would fit Steven well.
Connie's wearing a yukata, which is about a step up formality-wise from a jinbei, but still very relaxed. The two of them could easily be going to a festival or hanging out at the beach. The music note motif is actually the viola sheet music for Do it for Her/Him, which is a song from one of the best episodes featuring Connie.
Pearl has on a fairly traditional semi-formal kimono, featuring a design of her favourite tree around the hem. It's elegant and a little rigid, just like Pearl, but wearing flats instead of zori and a coloured collar are a little unconvetional, also just like Pearl.
Garnet's outfit is retro and funky, just like Garnet. The bold pattern and longer sleeves are inspired by Taisho-era style, and she's got on a shigoki obi under her regular obi for a bit of added brightness.
Amethyst is the youngest and the boldest, so I figured a bright fun coming-of-age furisode outfit would be the most appropriate.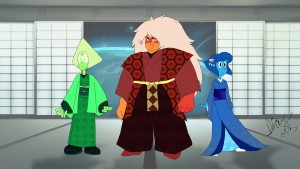 Jasper is all about the big bold drama. She's in a masculine-styled outfit inspired by the White Lion role in traditional kabuki. With that hair, how could I not? 😉
Peridot's outfit is staid and practical and geometric, a relatively casual komon kimono with a coordinating haori. (Note that I drew these before the most recent episodes of the show, before her loyalties started to shift).
Lapis, with all her lovely song and fluid movement, is wearing a trailing hikizuri, or dance kimono. They are often worn by geisha, but all other manner of performers as well.
There are star accents on all the Crystal Gems and yellow diamond accents on all the Homeworld Gems, too. Their normal in-show costumes feature these motifs as a subtle visual cue about what "side" they're on, and I wanted to carry that through in a way that still fit with the rest of the artwork.