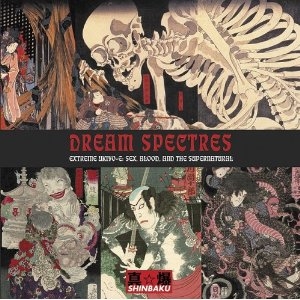 Dream Spectres: Extreme Ukiyo-e: Sex, Blood & The Supernatural
by Jack Hunter
Language: English
ISBN: 978-1840683011
Amazon.com Listing
Publisher's Listing
Goodreads Page
This is a strange and fascinating little book. It's an extensive collection of the "dark" side of traditional Japanese woodblock printing, running the gamut from pornography to police blotters to illustrations of traditional ghost stories.
The way it's written is relatively sensationalist, but when you take the subject matter into account, there's really no better way to present it. It wouldn't be half as fun or interesting if it were written in a more dry, academic manner. Unfortunately, this also means the write-ups of the individual prints are not terribly in-depth, and I did occasionally find myself wanting more information than the book was able to give me. However, it's a great introduction and included sections on certain types of prints I'd never heard of before, such as the shinbun nishiki-e, or brocade news prints, that were put up to illustrate particularly horrific or difficult police cases, allowing the general (and often illiterate) public to participate in current events.
Due to the nature of this book, all the example scans are distinctly NOT safe for work environments, or for people under the age of eighteen. If you are curious and would like to see examples from the content of this book, please follow the cut below. If you are underage, in a public area, or are easily upset by explicit or gory content, please DO NOT CLICK. I will not be held responsible for any consequences to be had from viewing the images below.